Published and Unpublished Works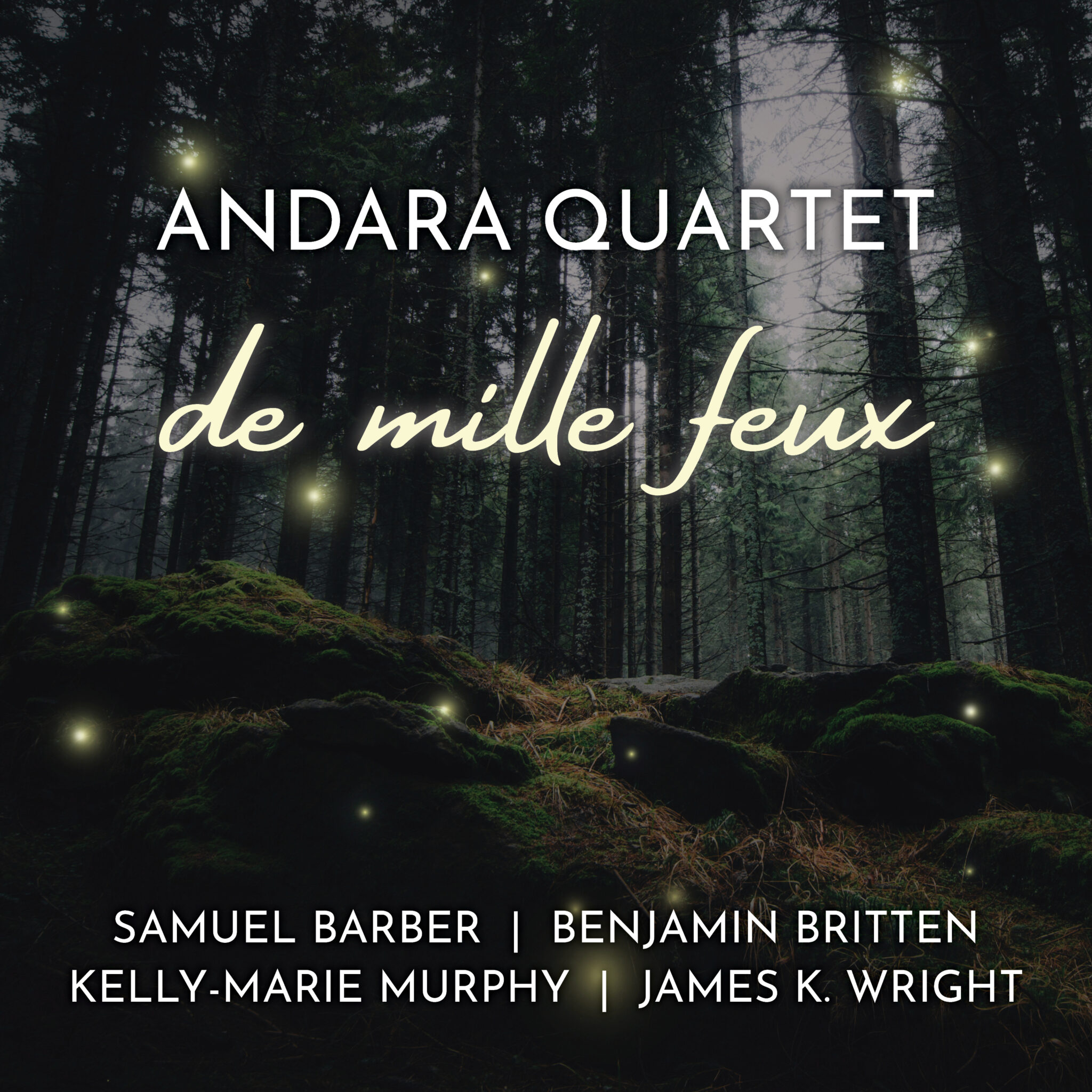 String Quartet No. 1 ("Ellen at Scattergood"), 2022
Total duration: 20 minutes (21 minutes in performance, with pauses between movements)
"Commissioned by David Cray as a gift for his wife, Ellen, and as a reflection of their time together on Lac Scattergood, Quebec"
Recorded in July 2020 by the Andara Quartet of Montreal: Marie-Claire Vaillancourt (violin), Jeanne Côté (violin), Vincent Delorme (viola), and Dominique Beauséjour-Ostiguy (cello), with Veronica Galicia (recording engineer).
Premiere performance: Andara String Quartet, Chamberfest 2022, July 28th, Carleton Dominion-Chalmers Centre, Ottawa.
American composer Dr. John Cornelius II writes: "Ellen at Scattergood is a really decisive string quartet with attitude! The pacing of the movements really allows the listener to get inside the piece, and it takes traditional forms and genres (Tarantella, Waltz, Rondo) and turns them on their ear. This is a brilliantly sophisticated work that has nothing to prove, except its composer's audacity."
See article by Nick Ward: https://carleton.ca/fass/story/the-sound-of-love-on-the-lake/
Briefe an die unsterbliche Geliebte / Letters to the Immortal Beloved (Counterpoint Music, Toronto)
for baritone (or mezzo-soprano) and piano trio. Settings of excerpts from Beethoven's letters to the "Immortal Beloved." See also https://jkennethwright.com/immortal-beloved/
I. "Wo ich bin, bist du mit mir" ("Wherever I am, you are there with me")
II. "Mein Engel" ("My Angel")
III. "Meine unsterbliche Geliebte" ("My Immortal Beloved")
Recordings: (1) Featured on 2019 CD "Immortal and Beloved" (Analekta B07LC2J7VG) by baritone David Pike and the Gryphon Trio (recorded at the Isabel Bader Centre for the Performing Arts, Kingston): https://www.analekta.com/en/albums/beethoven-wright-immortal-and-beloved/; (2) Featured on 2015 CD "Elements Eternal" (Naxos 8.573533) by mezzo-soprano Julie Nesrallah and the Gryphon Trio (recorded at the CBC Glenn Gould Studio, Toronto): http://www.naxos.com/feature/Elements_Eternal.asp
Dedication: For Julie Nesrallah and the Gryphon Trio, and for all of our Immortals Beloved
Interview: Wright-Nesrallah Immortal Beloved – Fassinate 2013 (pp 8-9)
Premiere performance: July 27, 2012, Ottawa International Chamber Music Festival (mezzo-soprano Julie Nesrallah, and the Gryphon Trio – Annalee Patipatanakoon, Roman Borys, Jamie Parker).
Other noteworthy performances: Briefe an die unsterbliche Geliebte has been performed on five continents, including performances by Julie Nesrallah and the New World Trio, Escola de Música e Artes Cênicas, Goiania, Brazil (November 1, 2013); Julie Nesrallah and the Gryphon Trio, Koerner Hall, University of Toronto (September 29th, 2014); Zhao Shuguang (baritone) and Wang Tianyang (piano), Central Conservatory of Music, Beijing, China (July 6, 2016); Baritone David John Pike (Luxembourg,www.davidjohnpike.com), pianist Maxim Bernard, violinist Marjolaine Lambert, cellist Tim McCoy, Ottawa Choral Society Series, March 24, 2017; Baritone David John Pike, pianist David Briggs, violinist José Pereira, cellist Miguel Fernandes, recorded live at Igreja da Lapa, Oporto, Portugal (July 15, 2017), posted on Youtube at https://www.youtube.com/watch?v=6emxQD-j2iQ; Briana Elyse Hunter (mezzo-soprano, (http://www.brianaelysehunter.com/), 7:00 pm, Sunday, November 12, 2017, Grosse Pointe Unitarian Church, Detroit, Michigan.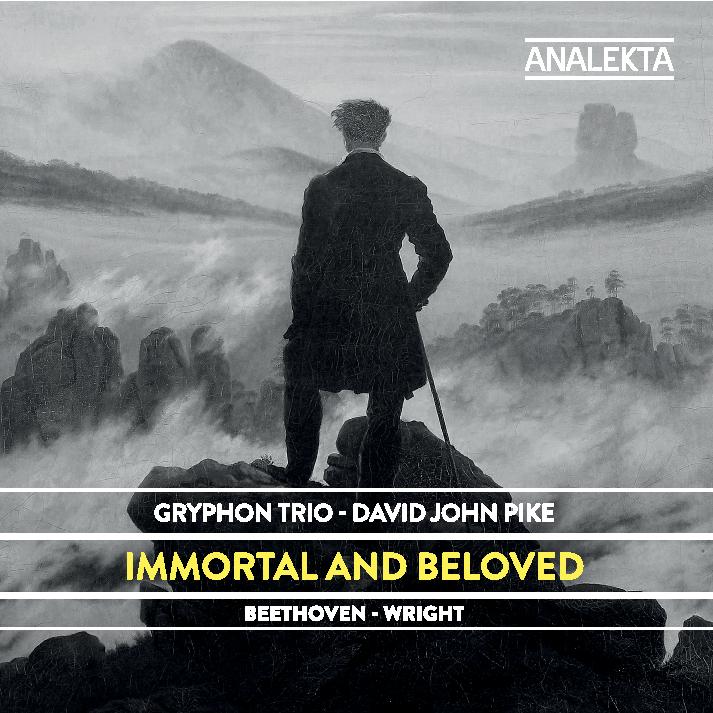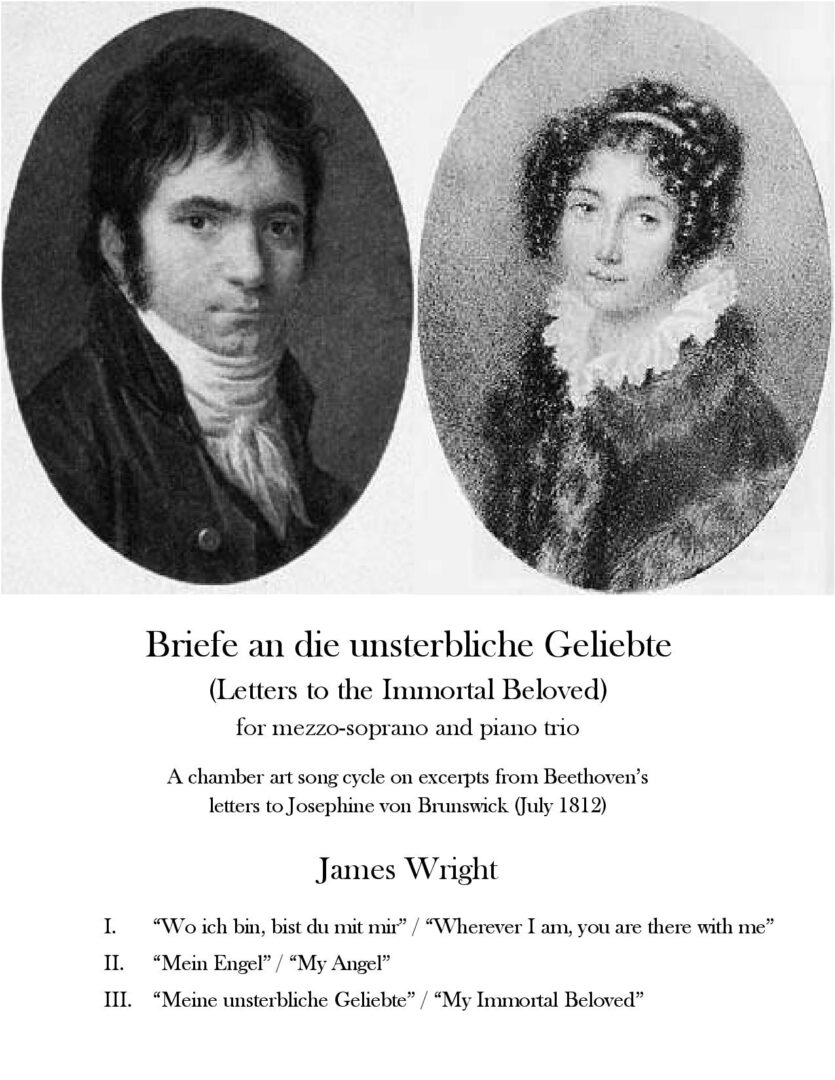 Quilled Sonnet (Toronto, Frederick Harris Music Co., 2019) – Soprano, piano
From a cycle of three "Odes to Music" for high soprano with piano accompaniment, written in collaboration with Canadian author Stephen Michael Berzensky.
To Young Canadians (Vancouver: Cypress Music, 2013) – choir with piano and string orchestra accompaniment (also available for SATB/piano, SAB/piano and SSA/piano, and in an arrangement for full orchestra and choir) http://www.cypresschoral.com/Canada/Composers/WrightJames.html and https://jkennethwright.com/to-young-canadians/.
Music video: https://www.youtube.com/watch?v=q_GKyaJ-gEo&list=UUcC2xPpy__G6AiQ22pFT2rw
Dedication: "In memory of the life and legacy of Jack Layton. For The Leading Note Foundation and their Orkidstra and Kidsingers programs"
Premiere performance: On September 29, 2012, the Honorable Olivia Chow was presented with an Ottawa Peace Award, posthumously, for Jack Layton, her late husband. "To Young Canadians" was written for the occasion at the request of the Leading Note Foundation, as a tribute to Layton, whose message it aims to spread through the universal language of music. Its text is a lyrical adaptation of excerpts from the "Letter to Canadians" that Layton penned two days prior to this death on August 22, 2011. It was first performed by instrumentalists and choristers from The Leading Note Foundation's OrKidstra and Kidsingers programs, the Brookfield High School Choir, the Ottawa Childrens Choir, the Cantiamo Choir, directed by Jackie Hawley, Margaret Tobolowska and Jeannie Hunter.
Other noteworthy performances: "To Young Canadians" was also featured CBC National's "Music Monday" broadcast (Monday, May 5, 2014), and at a "Canada Day" performance by 350 singers from across Canada (the "Unisong" Choir), accompanied by Canada's National Arts Centre Orchestra, on July 1st 2014, National Arts Centre, Ottawa.
How Brightly Beams the Morning Star! (Vancouver: Cypress Music, 2022). For SSA(A) or SATB choir with piano or organ accompaniment. Dedication: "For Matthew Larkin, and the Caelis Academy Ensemble."
A Gallery of Song: Spirit of the Land (Ottawa, Songwright Music, 2002) – SSAA
I. Tangled Garden (J.E.H. McDonald);
II. Untitled (Franklin Carmichael);
III. Mill Houses (A.J. Casson);
V. Summer Day (A.Y. Jackson);
VI. Bright Land (Arthur Lismer);
VII. Scorned as Timber, Beloved of the Sky (Emily Carr);
VIII Moonlight at Lynn (Frederic Varley);
IX. Snow (Lawren Harris)
Commissioned by: Bill and Jean Teron, and the Kanata Children's Chorus
Decription: This nine-movement work (settings of youth poetry inspired by the works of the Group of Seven) was premiered at the McMichael Gallery (Group of Seven collection), Kleinburg (Toronto), Ontario, in the Spring of 2003. Fully choreographed performances were given at the National Gallery of Canada on June 24, 2007, and at the National Arts Centre Theatre on June 7th, 2014. See Nick Ward's article/interview are http://carleton.ca/fass/2014/carleton-composer-pays-tribute-group-seven-nac-performance/.
Interview:Musica Classica," June 4th, 2014), featuring 5 musical excerpts, can be heard at MUSICA CLASSICA – JUNE 4 PART 2 and MUSICA CLASSICA – JUNE 4 PART 1.
Other noteworthy performances: The U.S. premiere performance of "A Gallery of Song" was given by Luke McEndarfer and the National Children's Chorus (USA) at the Los Angeles Broad Stage Theatre on Friday, March 21, 2014. "The NCC was honored to perform and premiere this beautiful music," maestro McEndarfer wrote. "Lyrical, nostalgic, adventurous and heartfelt, the piece takes performers and audience members on a vivid Canadian journey, immediately forming an emotional bond among everyone in the room, while dutifully mirroring the Group of Seven's inspired images with sound. Our students loved every moment of preparing the piece, which was received at Santa Monica's Broad Stage with great acclaim!"